Opodo made its debut as a British brand back in 2001 and quickly made a name for itself as a fast and reliable website to book a variety of different travel services. This success was immediately followed up by two more websites in the next 5 years. Today, Opodo offers a huge range of services and flights as well as holiday packages that allow customers to travel to the four corners of the world. In 2011, it became a part of the eDreams ODIGEO group along with four other major brands (eDreams, Travellink, GO Voyages and Liligo). The Opodo brand benefited from this association which brought a new level of service and quality to its customers. Today you can use Opodo to book flights, hotels, rent a car and select cruises, and you can contact their customer service team to get the latest deals and offers. Opodo first came together through a collaboration of nine different airlines. These companies were united with a goal to offer a new kind of travel service, one that would quickly and effectively enable travellers to customise their entire travel plan. Opodo's purpose has not changed over time: it still wishes to provide fun, efficiency and value for money to all its users.
A better experience with flights, hotels and car hire with Opodo
Booking with Opodo offers quick and clear access to some of the best flight and hotel deals available. As well as a great list of offers updated every day and backed up by a low-price guarantee, they also offer specific discounts negotiated especially and accessible only through Opodo. One of their prime interests is to maintain diversity through their offers.
Choose from 650 different airlines and as many as over 2,100,000 hotels worldwide, as well as 7,000 car rental service locations around the globe.
You make even better savings by combining flight and hotel bookings or applying one of the many promotional codes generated by Opodo every week to help make a great deal even better.

Is it safe to buy through Opodo?
As one of Europe's leading online travel agencies for flight bookings and hotel reservations, Opodo is one of the most reliable operators to book your travel with. With a presence in 14 countries, Opodo is a British company currently operating in several countries such as Germany, the United Kingdom, France, Spain and Italy. Opodo is part of the eDreams ODIGEO group, the largest online travel agency in the world.
Are flights booked through Opodo ATOL protected?
Being a travel agent registered in Madrid, all package holiday bookings made with Opodo are protected by the Spanish financial protection scheme. This scheme is fully compliant with the standards of protection required by EU legislation and provides the same level of protection as ATOL, allowing UK customers to book their holidays with the highest level of protection.
The most effective way to contact Opodo is through its online channels, such as the social media channels, the chat bot or the online support page. You can manage most of the services yourself online in your 'Manage my Booking' area on the Opodo website. After you log into your account and fill in your booking details, you can check your booking status, get your confirmation email sent again, request an invoice, change or cancel your flight, review passenger details, and more.
What is Opodo cancellation policy?
Opodo cancellation policy allows you to cancel your flights entirely free of charge during a certain timeframe. When searching for your flights you'll be able to see the notification of the free cancellation service and its time frame directly on the results page. If you cancel the booking within the allocated time, you will get a full refund of your ticket, including the service fees.
How do I know if my flight is refundable?
Refunds are subject to the conditions of the flight ticket you purchased – whether it is refundable or not – as well as to the airline – if they cancel the flight or you voluntarily do it. In case your ticket has been issued by IATA airlines, your tax refund will be managed by Opodo. If your ticket has been issued by non-IATA airlines or your payment has been processed directly by the airline, you should request the refund directly from the airline concerned. For more detailed information please read carefully the Opodo General Terms and Conditions as well as the General Airline Conditions when you plan your trip.
How long do airline refunds take?
According to the EU Regulation EC 261/2004, airlines are obliged to refund the full price of the ticket within 7 days in case of a cancelled flight. However, in the case of exceptional circumstances like the coronavirus pandemic or an airline bankruptcy, the refund authorization may take longer, from a few weeks to a few months. The EU regulation applies to passengers who fly within the EU and with an EU or non-EU airline, passengers who fly to EU from outside the EU and with an EU airline, passengers who fly from a EU country to a non-EU country with a EU or non-EU airline.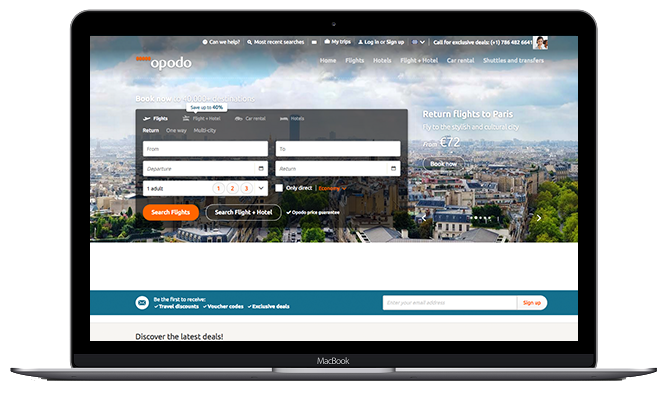 Opodo's website is meant to be clear and easy to use, allowing you to spend more time tailoring your holiday to suit your needs. Whether you are looking to book a long-term stay, a weekend getaway or a last-minute flight, you'll be able to search all the relevant options quickly using their filters, search engine and categories.
Compare prices and flight times on the same page to help you make the right choice regarding your budget.
Booking is fast and simple, whether you are using the website or wish to take advantage of their customer service.
Whichever you choose to go with, you'll be experiencing an award-winning level of innovation and excellence. Make more of your getaway with deals on Opodo.